How To See Hidden Likes On Instagram
Instagram has become a popular platform because of its unique features like Instagram reels, Instagram stories, and for businesses and individuals to promote their products, services, and personal brands, Instagram has a global user base of over 1 billion active monthly users, making it a powerful tool for reaching and engaging with audiences around the world.
However, Instagram occasionally introduces a new feature or update that leaves its users wondering and doubtful about the changes.
Today, we'll talk about one of these recent updates called hidden likes to better understand how this process works and how one can view hidden likes.
Instagram does not allow users to view likes that have been hidden by other users. To see these hidden likes on Instagram, however, you'll need to download one of the many third-party apps that are available on various websites.
When a user chooses to hide their likes, they will no longer appear in the list of likes beneath the post. Some third-party apps, however, are available on various websites and can reveal Instagram's hidden likes.
In addition to viewing likes, users also can buy fake likes, boost their likes and follower counts with "fake followers", and even view private Instagram profiles and accounts with these apps.
Many young people, social media/Instagram influencers, content creators, and brands are using this kind of app to increase their engagement rate and reach. However, such apps are creating a toxic environment all over social networks and ruining people's experiences on social media platforms.
It's true that there are a lot of third-party tools out there that let users see hidden likes on Instagram posts.
The Preview app, NapoleonCat, and similar apps are examples of such tools.
In spite of the fact that Instagram does not offer a way for users to see who has liked the posts of users who have their account set to private, there are numerous third-party tools or services and Instagram app clones that do.
However, using third-party tools or services to try to see hidden likes or access private content on Instagram can also be risky, as it may compromise the security of your account or personal information. In addition, using such tools or services could result in a violation of Instagram's terms of service and can even lead to your account being disabled by Instagram.
It is important to respect the privacy of other users on Instagram and to only access and interact with content that you have permission to view. Using third-party tools or services to try to access hidden or private content is not a legitimate or ethical way to use the platform.
Why Has Instagram Introduced the Feature to Hide Likes?
Instagram has introduced the feature to hide likes to reduce social comparison and to shift the focus of the platform from likes to the content itself.
Instagram CEO Adam Mosseri has stated that their company has started this new feature to create a less pressurized environment for users and encourage them to share content that is authentic and meaningful to them.
Research has shown that social media can harm mental health, particularly when users compare themselves to others or feel pressure to conform to certain standards. By hiding likes, Instagram hopes to reduce this pressure and create a more positive experience for its users.
The whole idea behind the introduction of this feature is to create a more positive and supportive environment and give users a better experience.
The feature to hide likes has been rolled out to users in certain countries, and it is expected to be available to all users in the future. It is worth noting that the feature is optional, and users can choose whether to enable it or not!
Also Read: How Many People Can I Unfollow On Instagram
How To Hide Likes from Instagram?
To hide all the likes from Instagram, all you need to do is some changes in your app's settings. Instagram offered this feature to give its users a better environment and to reduce all the comparisons all over social media.
To hide Instagram likes, just follow these quick steps!
Step 1:
Open the Instagram app on your device and log in to your Instagram account. then tap on the Profile Icon in the bottom right corner of the screen to access your profile.
Step 2:
Now tap on the Three Horizontal Lines that are in the top right corner of the screen to access the menu.
Step 3:
Now tap on the Settings option in the menu, find the option named Privacy and then tap on that option.
Step 4:
And now tap on the Hide Like and View Counts. Now turn that option to On, you can also turn it "off" whenever needed.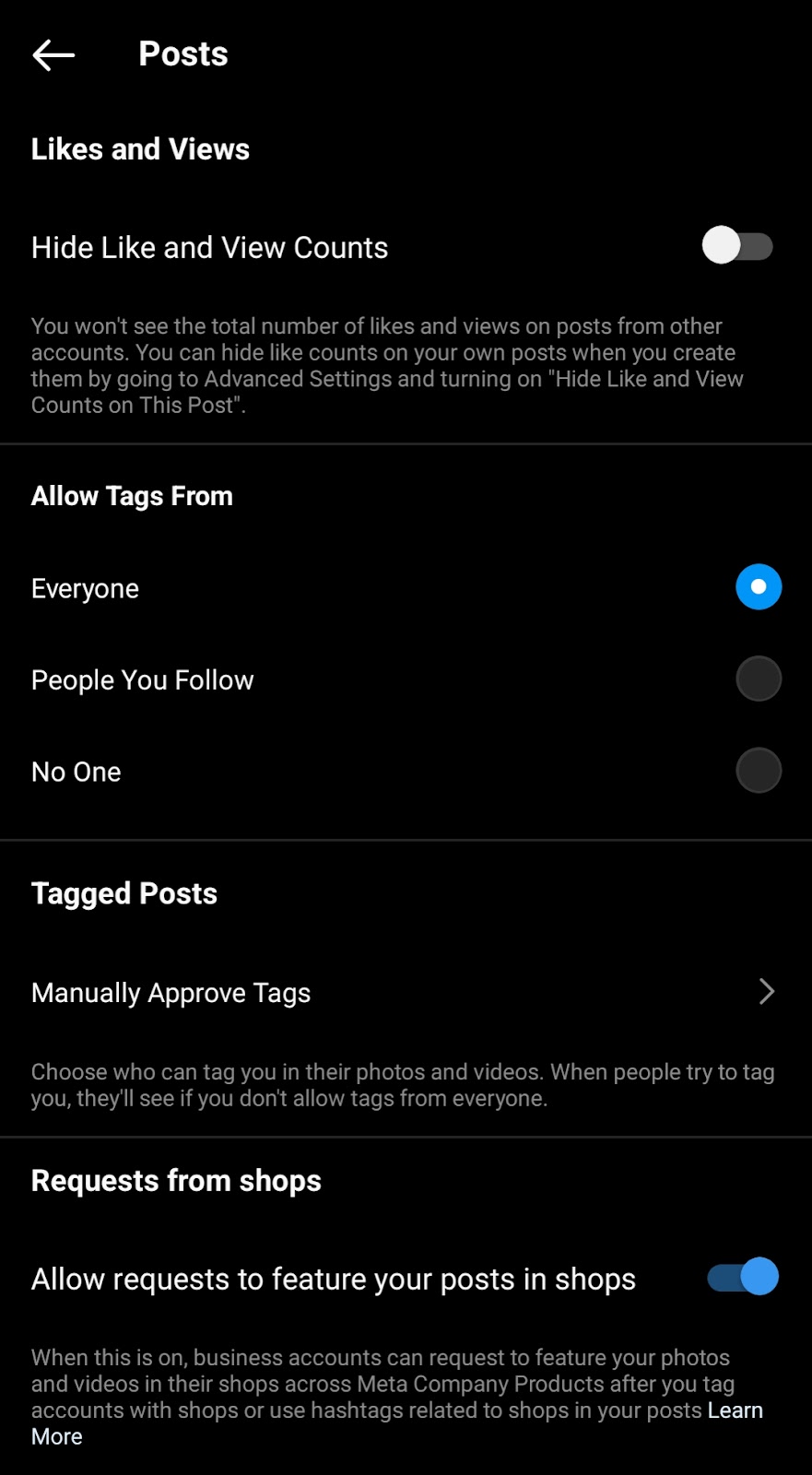 Is Likes on Instagram an Important Metric To Track Engagement?
Likes on Instagram can be an indicator of engagement, as they show that people are interacting with your content by expressing their approval or appreciation. However, it is important to note that likes are just one metric, and they may not provide a complete picture of your engagement or the success of your content.
Other factors can also impact engagement, such as the total number of comments, shares, and views that a post receives. In addition, the type of content that you post and the audience that you are targeting can also play a role in the level of engagement that you receive.
Therefore, it is important to consider a range of metrics and factors when evaluating the success of your content and the engagement that it is receiving. It is also a good idea to regularly review and analyze your performance to identify trends and areas for improvement.
Also Read: Apps Like Instagram
The feature of hidden posts on Instagram allows users to hide posts from their feeds without unfollowing the account. This means that the hidden posts will not appear in the user's Instagram feed, but the user will still receive notifications for new posts from the account.
For brands and creators, the feature of hidden posts can affect their visibility and reach on Instagram. If a user hides a brand's or creator's posts, it may be more difficult for the brand or creator to get their content seen by that user.
As a result, hidden posts could potentially lead to lower engagement and fewer followers for the brand or creator. It is important to note that the feature of hidden posts is intended to give users more control over their feeds and the content that they see. It is not meant to harm the visibility or reach of brands or creators on the platform.
Brands and creators can still reach their audience through other methods, such as using hashtags, engaging with their followers, and using Instagram's paid advertising options.
To sum up, the intent of the "hide likes" feature is to foster a more positive and encouraging environment on Instagram. The motivation behind all of this is fairly clear, and in today's social media society, it is actually a crucial requirement!