How Much Is A Rose On TikTok? [ANSWERED]
One of the most popular presents that viewers may send during TikTok Live streams is the TikTok Rose, but how much do all of those Roses truly cost? Let's find out in this blog.
How Much Is A Rose On TikTok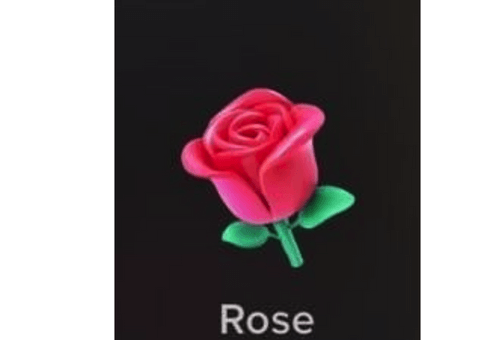 TikTok Live's gifting mechanism is one of the ways it differs from other apps. Viewers can send virtual gifts to live streamers on TikTok Live while they are watching.
You can express your gratitude for the video by using the stickers or AR effects that come with these gifts. The legendary Rose is one of the most popular TikTok Live presents.
A TikTok Live video's "Gift" button or the specific "Rose" button can both be used to locate the Rose. No matter where you locate it, TikTok Live's sending a Rose will cost you one TikTok coin.
As with tennis, love letters, soccer, funny gifts, small speakers, coffee, ice cream cones, TikTok gifts, and barbell gifts, a rose gift on the platform is worth one penny.
In the US, one TikTok coin presently costs about 1.3 cents. In other words, the cost of 1 TikTok rose is almost 1.3 cents.
What is the cost of 500 roses on TikTok then? In accordance with the previously mentioned TikTok coin price, 500 flowers are equivalent to 500 coins, so you will need approximately $6.49 to purchase these roses.
Also Read: Most Expensive TikTok Gift
How Much Are Other Gifts On TikTok Worth?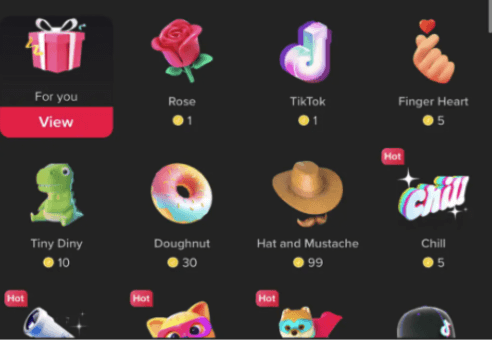 TikTok presents are available at a variety of price points. With pricing starting at just $0.012 (or 5 virtual TikTok coins) and going all the way up to $500 (or 35,000 TikTok coins), there are roughly 100 TikTok gifts available.
Let's explore the various TikTok virtual presents in more detail and determine how much each one is actually worth:
● Panda: 5 coins
● Love Bang: 25 coins
● Sun Cream: 50 coins
● Rainbow Puke: 100 coins
● Concert: 500 coins
● I'm Very Rich: 1,000 coins
● Drama Queen: 5,000 coins (five thousand coins)
● Planet: 15,000 coins
The user must first buy virtual coins on the platform with real money in order to buy a virtual gift. For buying a coin bundle, there are a variety of pricing options available:
● 100 coins: $1.29
● 500 coins: $6.49
● 1,000 TikTok coins: $13.5
● 2,000 coins: $26.99
● 5,000 coins: $66.99
● 10,000 coins: $134.99
Also Read: How Much Is A Galaxy Worth On TikTok
How Can You Send and Receive Gifts On TikTok?
Let's first define when a user can send these presents in particular before going into how to send TikTok Gifts.
You have the choice to send Live Gifts to your favourite creators on this social media platform during their live streams or in the video comments. This suggests that messages provided through other channels, such DM, are incompatible with TikTok gifts.
In order to safeguard the platform's younger users, TikTok's rules have also placed some limits here:
When sending a gift to a TikTok video or live stream, the user must be at least 18 years old (or 19 in South Korea and 20 in Japan).
Here are 4 simple procedures for sending TikTok presents during live streams:
Step 1: Enter a TikTok influencer's Live Stream and select the "Gift Icon" at the bottom right of the screen.
Step 2: Select the Gift you want to give to your preferred platform creator.
Step 3: If you don't have enough money, simply tap "Recharge" and then adhere to the on-screen directions.
Step 4: Once you've chosen your gift, just hit "Send" to finish!
Here are the 5 fast procedures for sending TikTok presents in the comments section:
Step 1: Click or press the "Comments symbol" on the video you're watching.
Step 2: The Gift Icon will now be located next to the Add remark option; tap it quickly.
Step 3: Following that, choose the Gift you wish to gift the maker.
Step 4: If you don't have enough money, simply tap "Recharge" and then adhere to the on-screen directions.
Step 5: Type your remark and click "Send" to complete the process!
Also Read: Why Can't I Go Live On TikTok
Difference Between, TikTok Coins, Gift Points and Diamonds
Although it could be difficult to see all three terms at once, it's actually rather easy to tell them apart.
Coins: The virtual currency used by the TikTok app is referred to as a coin, and users may use it to buy in-app presents to send to the creators they really admire.
Gift Points: When a creator receives a Gift from their followers or other users on their platform, it is converted to TikTok Gift points and added to the balance before being turned to diamonds. After being transformed into diamonds, the value of the TikTok gift points can be determined.
Diamonds: Diamonds are the only virtual items that can be traded for actual money. Gift points are converted into diamonds, each of which is worth $0.05, and the user can then withdraw these diamonds from the platform.
One of the least expensive presents you may send to TikTok Live is a TikTok Rose, which costs one penny. A wish bottle, an ice cream cone, and the TikTok logo are examples of other 1-coin gifts. One of the most identifiable flowers, though, is the rose. This is the simplest, loveliest, and most straightforward present on TikTok Live.